EZ LC Speedo Super Sectional
scheduled for May 28 – 31 at
Collegiate School Aquatic Center
has been CANCELLED.
---
Age Group Champs t-shirts and sweatshirts can be purchased here.

---
A

April 26:

House of Delegates Meeting, Richmond-Midlothian DoubleTree

Please check the updated list of Delegates on the House of Delegates page and notify the Business Office if any changes need to be made.
2020 Candidates for Jr. Athlete Representative:
Ben Eichberg, RAYS
Boone Fleenor, SFY
Jenna Kapp, RAYS
Hannah Tse, RAYS

Candidate Bios can be found here. Electronic Voting will be available
April 1 – 15.
---
Congratulations to the 2020 VSI Scholarship winners: Sydney McCallie, QSTS, and Caroline Storen, RAYS.
---
Congratulations to Jacob Winn, SEVA, whose design was selected as the official logo for Senior Champs.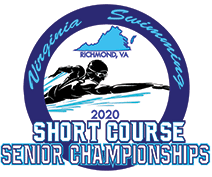 ---
2020 Graduating Seniors
---
VHSL 3A Region Championship
meet results have been removed
since it was not properly observed for USA Swimming
---
He did it again!
Thomas Heilman set a new NAG record in the 100 fly with a swim of 50.82.
He now owns


6 NAG records for 11-12 boys.

.



Congratulations to Thomas !!
---
Olympic Trials Data
---

Documents to Help Clubs Implement MAAPP Requirements
---
NAG Records -Thru Nov only
Broken Short Course Records -3/16/20
Broken SC Relay Records - 3/10/20

Broken LC Relay Records 8/23/19
Broken Long Course Records - 9/3/19

Top Ten List found under
"Times" tab

2019 LC All Star Team

2019 SC All Star Team

SOY posted Athlete's page
Questions?
Please contact Mary Turner.
Virginia Swimming, Inc.
PO Box 1059 Appomattox, Virginia
(434)352-5451
businessoffice@virginiaswimming.org
or
Emily Fagan
804-217-9224
vaswimreg@gmail.com
If you encounter Broken links on this website, please contact
the Webmaster

MISSION
Virginia Swimming creates opportunity and
promotes sportsmanship in the pursuit
of personal excellence.
VISION
Virginia Swimming moving forward,
swimming fast.
CORE VALUES
Honesty - Inclusion - Athlete-centric