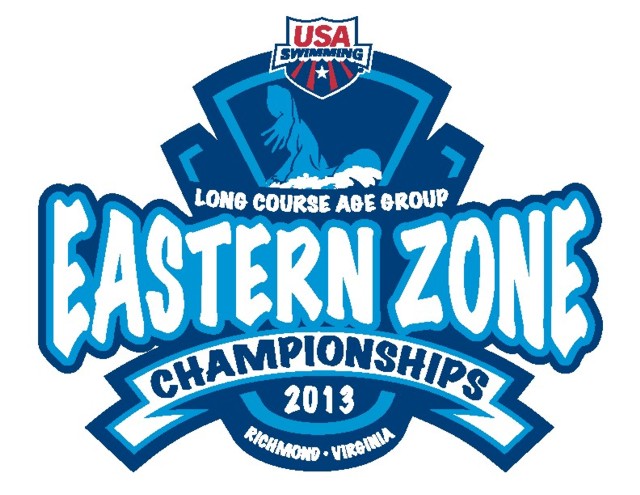 EZ LC Age Group Championships Meet
7-11 August 2013
Hosted by Virginia Swimming
Local Coordinator - Poseidon Swimming
Collegiate School Aquatics Center 5050 Ridgedale Parkway Richmond, VA 23234
Lake Anna, Christopher Run Campground, 7149 Zachary Taylor Highway Mineral, VA 23117
Potomac Valley Swimming won the Combined Team Title!!
Virginia Swimming and Middle Atlantic Swimming finish 2nd and 3rd, respectively.
Potomac Valley Swimming won the Girls Team Title! Virginia Swimming won the Boys Team Title!
Kathryn Painter (AM) and Carrie Heilbrun (PV) won Girls High Points! Aaron Zhu (NE) and Logan Burton (VS) won Boys High Points!
Aaron and Logan also won Combined High Points!!
CONGRATULATIONS!!
Welcome to Virginia Swimming and Richmond, VA!!
We're streaming live video of all sessions!
Directions to CSAC (Mapquest) Directions to Lake Anna (Mapquest)
Meet Announcement Meet Setup File Open Water Meet Announcement Course Map Open Water Meet Setup File
(updated 7/7)
Psych Sheet Open Water Psych Sheet
(updated 8/5)
Estimated Time Lines Warm-Up Schedule Timers' Lane Assignments
Team Photos Flyer Team Photos Order Form
Application to Officiate .doc .docx Officials Schedule
Boys Results Girls Results Team Scores Individual Scores Open Water Results
Real Time Results Streaming Video Pictures


Awards Pictures Available Here
Things to Do, Places to Go in Richmond